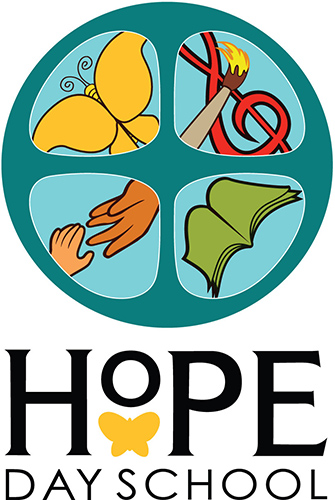 Unique Features:
Researched based curriculum
Nature play with one of a kind nature playground
Healthy breakfast, lunch and snack provided
Emphasis on experimentation and discovery
Art and music education
Low teacher / child ratio
Immunizations requirement
Involved parent community
Community for the whole family
Our Philosophy
Hope Day School is a high quality early education program in a safe and nurturing environment. Our pedagogical approach is grounded in interactive learning experiences.  Our research based curriculum emphasizes nature and artistic play through experimentation and discovery.  Teachers increase the difficulty, complexity, and challenge of activities as children develop cognitively and socially.
At Hope Day School, we believe all children have unique personalities with diverse learning styles, differing family backgrounds, and individual patterns for growth.  Children grow from interaction with a rich learning environment, older and younger peers, and highly intentional teachers. We create experiences appropriate to our children's interests and abilities, while encouraging their creativity.
We pride ourselves on our low teacher to student ratio, allowing our students to develop deep and meaningful social connections with adults and children. With regularly scheduled special events and opportunities for involvement by working parents, Hope Day School Dallas is a community for the whole family.
Cathedral of Hope
Hope Day School is located on the campus of Cathedral of Hope United Church of Christ, a mainline progressive Protestant denomination. Cathedral of Hope welcomes all people who seek to grow in faith and community, and believes that all people are beloved children of God.
Cori Berg
Cori Berg has worked in the field of early childhood education for nearly 20 years as a teacher, administrator, and teacher trainer. She received her Bachelor's Degree in Theatre and Television Arts at Valparaiso University, her Master's Degree in Art and Theology from United Theological Seminary of the Twin Cities, and continued on for doctoral work at the University of California, Berkeley. She turned to early childhood education after working as an artist-in-residence at a Reggio Emilia preschool in Berkeley. She continued her education in both early childhood and elementary education at Cal State Hayward and received her administrative credential from Camp Fire USA in Fort Worth, Texas. She is a member of the National Association for the Education of Young Children, the Texas State Licensed Child Care Association, the Children's Music Network, and the Texas Association for Infant Mental Health. She has worked in faith-based private preschool, public preschool, and private elementary schools. Cori's professional interests include training teachers on research-based child development and guidance practices, supporting the needs of parents with young children, children's worship, and the incorporation of the arts in emerging literacy and math.
Haley Wester
Haley received her Bachelor of Science degree in Child Development from Texas Woman's University, with extended training in early childhood administration. She has worked in a variety of preschool settings including corporate preschool, after school programs , and faith- based preschool programs. Haley's interests include program planning, parent resources and support, organization of staff training, and early childhood assessment.
Next Steps
For more information about our school and a visit to our facilities please make an appointment.